Potensic A20 Yellow Mini Drone Indoor RC Quadcopter 2.4G Remote Control Helicopter Easy to Fly Drone for Kids Boys Toys Gift
Do you want a drone that's easy to fly and perfect for kids?
Look no further than the Potensic A20 Yellow Mini Drone! This drone is made of durable plastic and has 4 channels for a smooth flight. It also has a remote control distance of 15m, making it perfect for indoor and outdoor use. The Potensic A20 Yellow Mini Drone is a great gift for kids and a great addition to any toy collection.
Features & Benefits:
-4 channels for a smooth flight
-Remote control distance of 15m
-Made of durable plastic
-Great for indoor and outdoor use
How it works:
1. charge the drone's battery via the USB cable.
2. Turn on the drone and the remote control.
3. Pair the drone and remote control.
4. Fly the drone!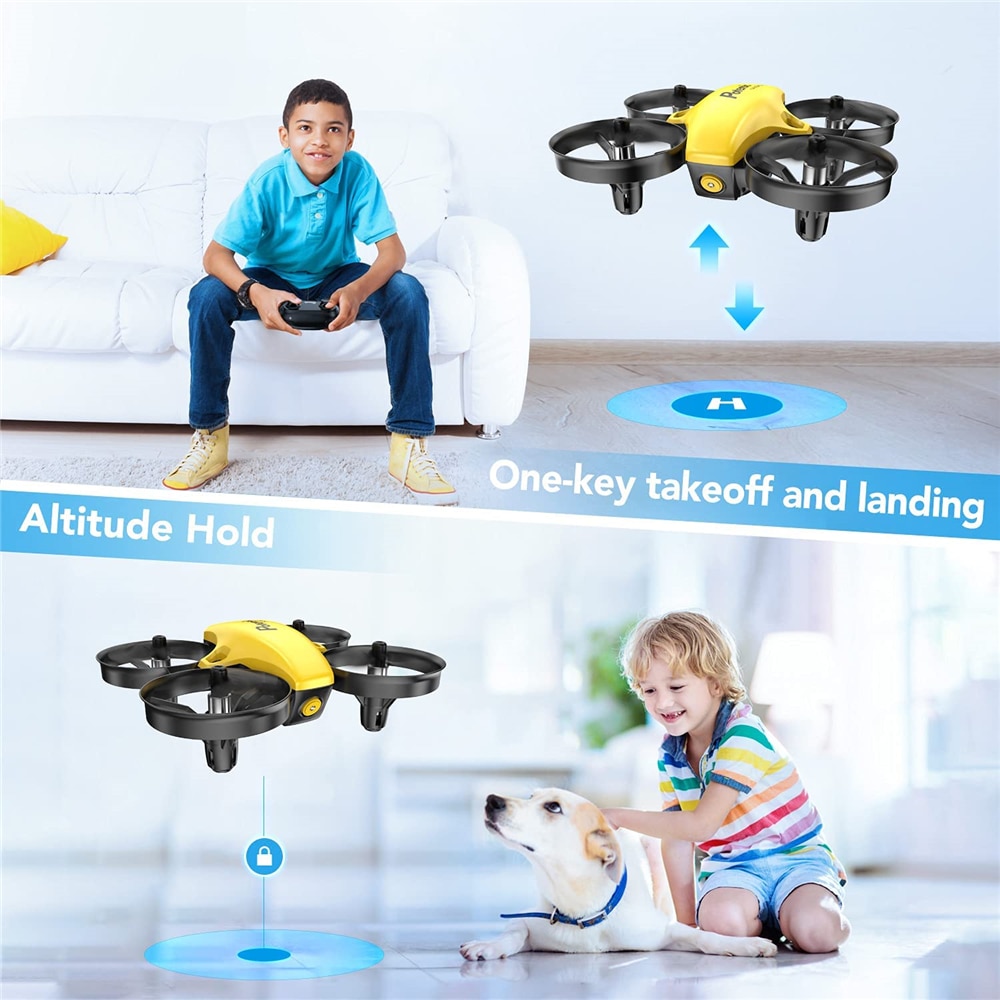 Headless Mode
Players no longer need to worry about where the head of the mini drone is oriented because, in headless mode, the operator can fly the drone according to his or her direction.
3 Speeds Adjustment
The A20 mini drone has 3 flight speeds to choose from (low/medium/high) to suit the pilot's flight proficiency and make it easier to improve flying skills.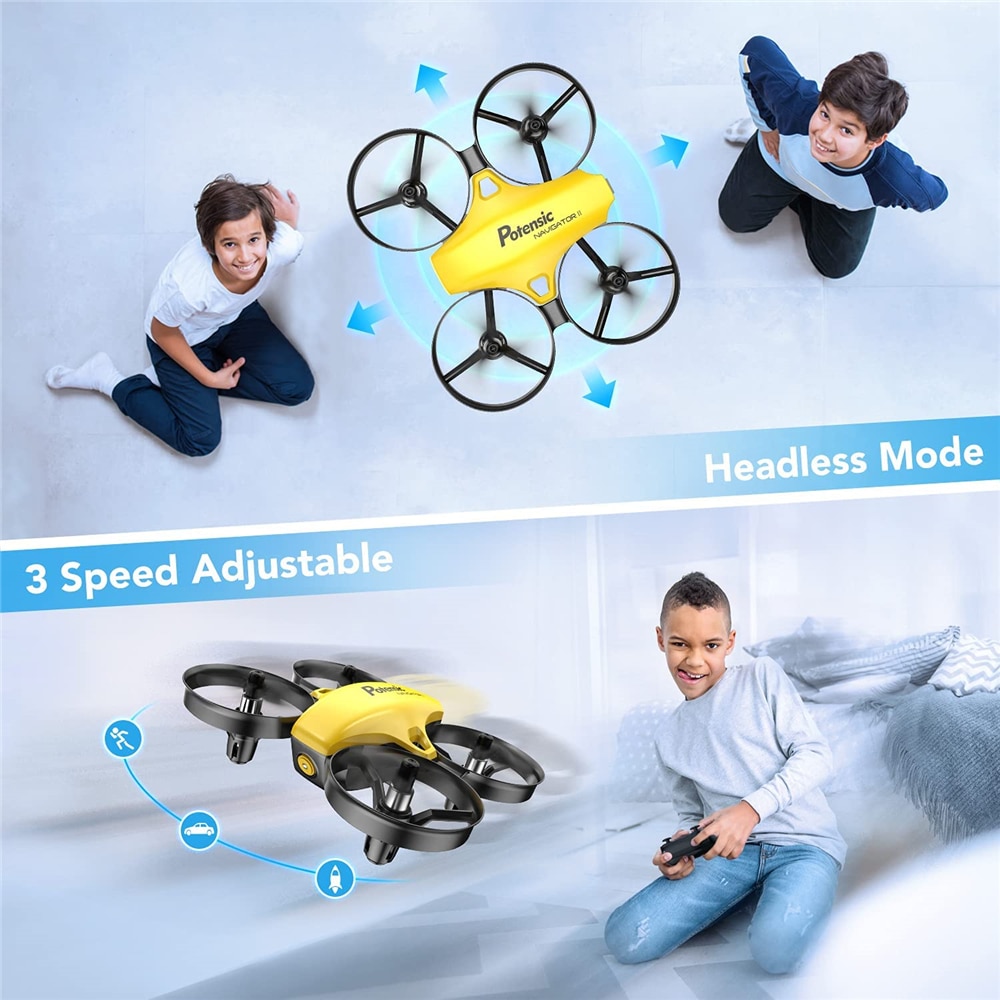 Mini and Portable
This palm-sized drone comes with an equally small controller (100W x 70H x 50D), making it ideal for small hands and easy to carry around.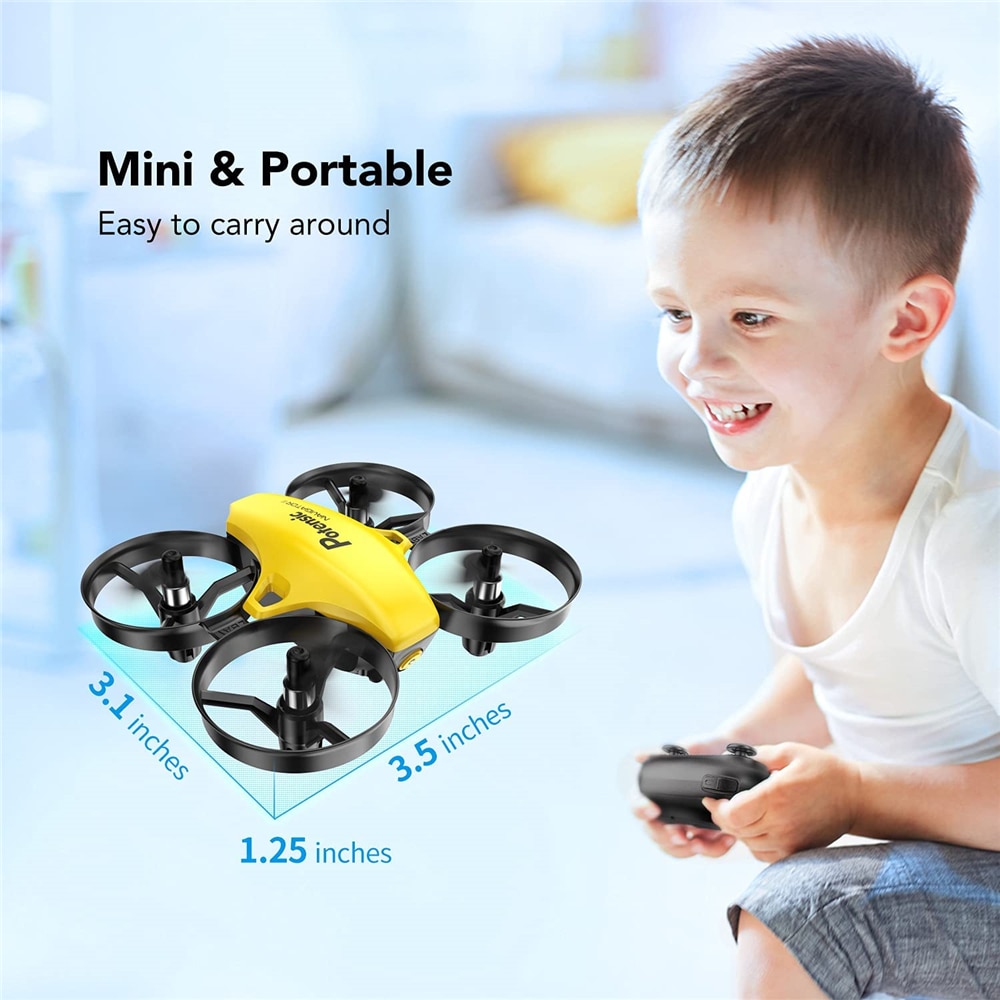 3 Batteries Longer Flight Time
Up to 18 minutes of flight time. Never get frustrated with a dead battery or waiting for a recharge. A low battery alarm eliminates the need to worry about any loss or damage to the drone due to low battery.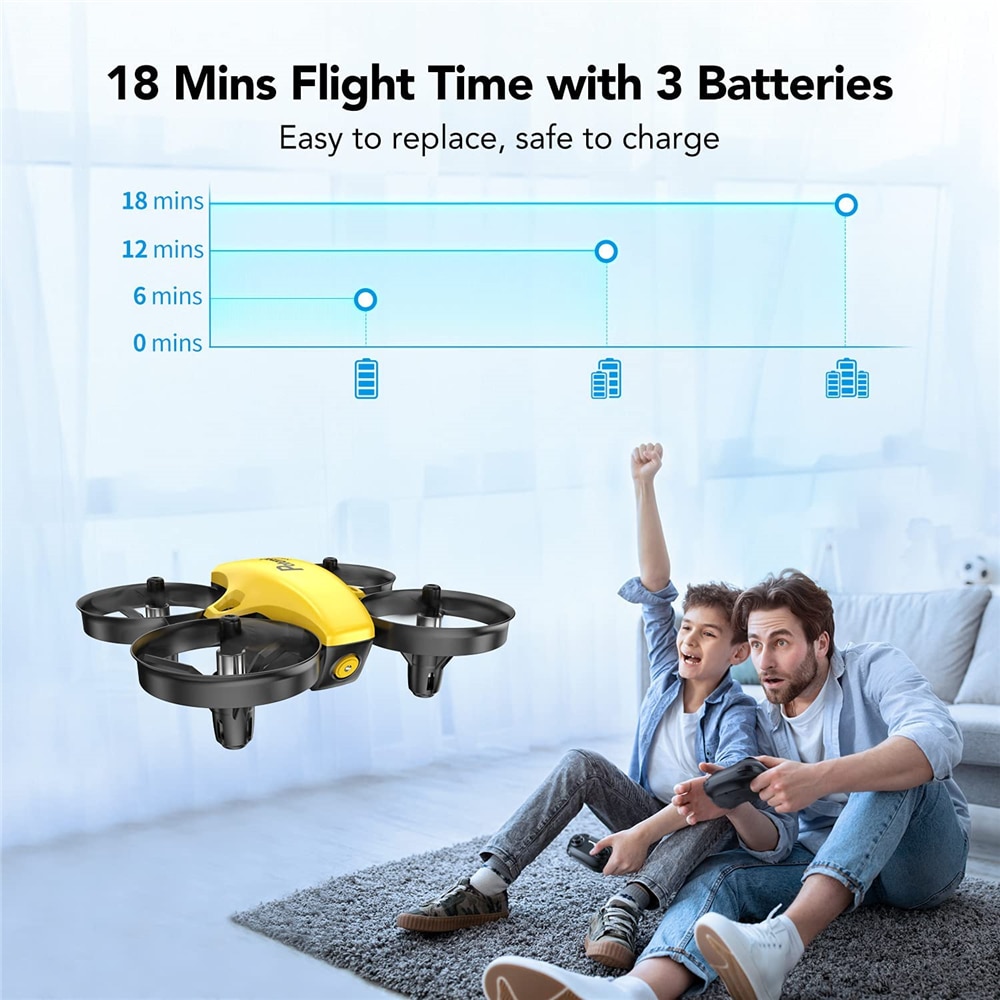 All-around Protection
The protective guards isolate the propellers of the drone to protect kids from the propeller rotation and protect the drone from damage when flying against the wall; very durable and safe.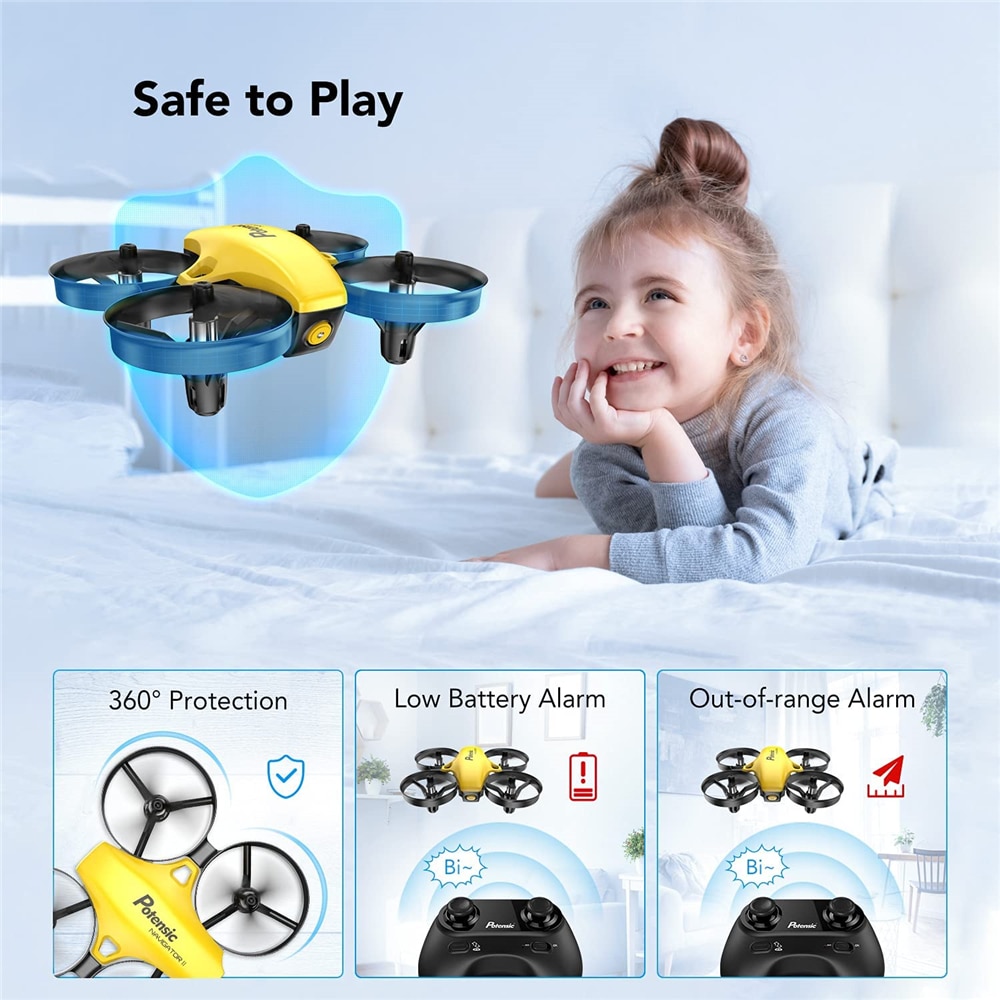 Package Contents
1* Remote Controller(not including 1.5V AAA battery)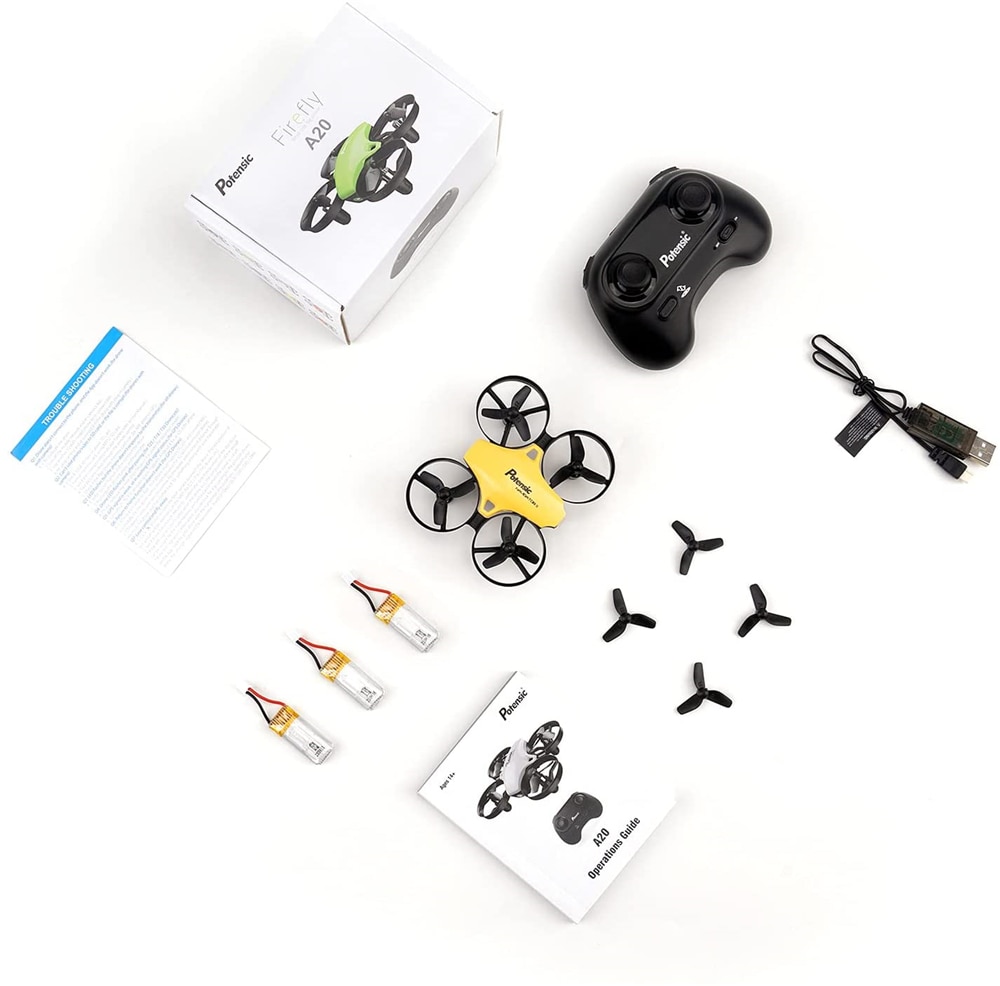 At KidsToys, we understand that your child's happiness is important to you. That's why we work hard to bring joy and unique products to you. Our delivery timeframe for most items is about 3-7 Business Days. Personalized products and some specialty products may take longer. During the holiday season, due to the overpressure on shipping lines, the parcel could take longer than expected! Thank You for Being Our Valued Customer. Have questions? Live Chat or Email us, and we'll be happy to help. Thanks again for choosing KidsToys!
What is Kids Toys? 
Kids Toys is a popular online store for baby and kids products. 
What is the benefit of buying from Kids Toys?
We want to offer the best possible deal for our clients for the goods that all of us want to buy for our children. Our endeavour is to make sure which you get the widest possible choice of top rated brands and products at the best possible fee anywhere within the USA. Combined with the best possible service and timely delivery of products at your doorstep.
What products do Kids Toys sell?
We sell products of all the leading brands for babies and kids. You can be assured of our commitment to good toys and healthy play for kids. We travel the world searching for quality, innovative toys and games. Check out our New Releases to see the latest AND greatest!

What's the minimum order value required to place an order?
There is no minimum order value required to place an order. You can place any amount value order as the mentioned of the product price.
How do I know my order has been confirmed?
After checking out during the payment process, you will get a confirmation that your payment has been processed successfully. You will also get a mail in your registered email id, along with an SMS to your registered mobile number confirming the order. 
How do I check my order status?
We will ship your package within 24 hours of receiving the order. We will also mail you the name of the courier company and the tracking number of your consignment for your registered email address. You may receive an SMS about the identical. In case you do not receive an email from us within 24 hours of placing an order please check your spam folder. Tracking won't seem online for up to another 24 hours in a few cases, So please wait till your package is scanned via the courier company. Alternatively, you may take a look at the same in my account page, where track shipment option gives you the current status of your order being shipped.
Is it safe to use my Credit Card Online at kidstoys.us?
We accept all major credit & debit card, Amazon Pay, Google Pay, Apple Pay also accepted through Paypal. All your transactions online are protected & secured by SSL (secure socket layer) technology from Shoppify.com. It encrypts your credit card and relevant information during the entire transaction process. This encryption makes your shopping experience safe and secure. 
What if an item is out of stock?
We make every effort to keep all products in stock. however, there can be times while unexpected demands exceed our supply. We can notify you at the time of check out if the item selected isn't in stock. In the rare situation where the order has been accepted and due to some reasons we aren't able to ship, We can notify you within 24 hours and the money will be returned to you in the same mode through which the payment was made within 10 operating days.
How are the products packaged?
Each of the individual products is securely packaged in bubble wrap and put into a box. The box is sealed well ensuring a safe delivery to your doorstep. 
Do you'll deliver products outside the USA?
We do ship products outside of the USA. In that case, you have to pay the shipping charge according to the USPS International Shipping Charge while you checking out the order. 
What is your Return Policy?
We have 7 days return policy. If your product delivered broken or product not delivered as like the website image.