DJI Mini 3 Pro Drone 249 g Tri-Directional Obstacle Sensing 4K/60fps Video 4K/30fps HDR Video 34min Max Flight Time MasterShots
Are you looking for a powerful and easy-to-use drone?
Look no further than the DJI Mini 3 Pro Drone! This drone weighs less than 249 g and can easily carry you wherever you go. It features tri-directional obstacle sensing, so you can avoid obstacles while flying. It also records up to 4K/60fps video and 4K/30fps HDR video, so you can capture amazing footage. With a 34-min max flight time, you can stay in the air for longer. Plus, with true vertical shooting and FocusTrack, you can get the perfect shot every time.
Features & Benefits:
-Weighs less than 249 g: This makes the drone easy to carry wherever you go.
-Tri-directional obstacle sensing: This helps you avoid obstacles while flying.
-Records up to 4K/60fps video and 4K/30fps HDR video: This allows you to capture amazing footage.
-34-min max flight time: This allows you to stay in the air longer.
-True vertical shooting helps you get the perfect shot every time.
-FocusTrack: This helps you keep the perfect shot in focus.
How it works:
1. charge the drone's battery and install the propellers.
2. Turn on the remote control and the drone.
3. Use the remote control to fly the drone.
4. Press the record button to start recording the video.
5. Press the stop button to stop recording.
6. Fly the drone back to you and land.
7. Turn off the drone and the remote control.
Order your DJI Mini 3 Pro Drone today and start capturing amazing footage!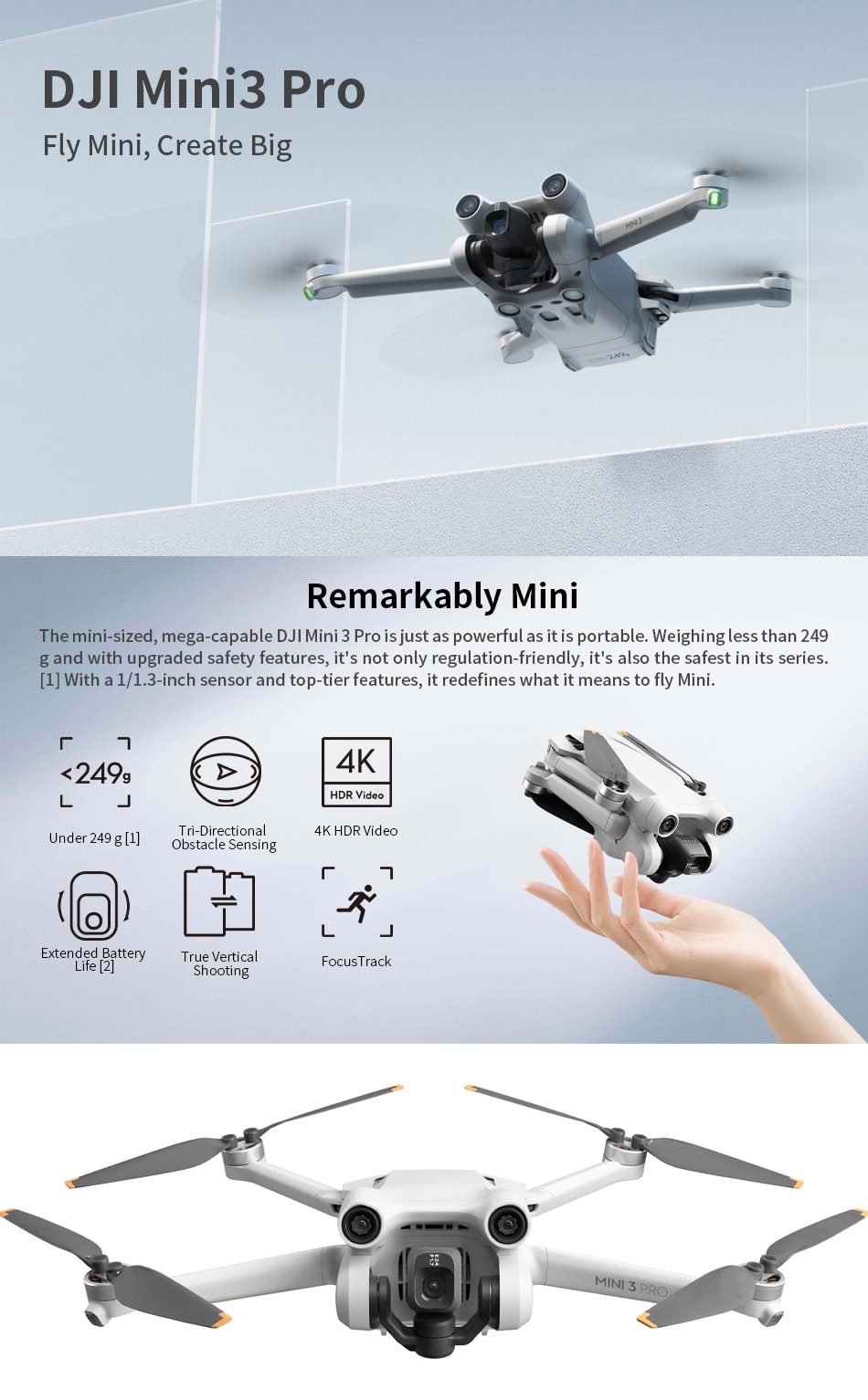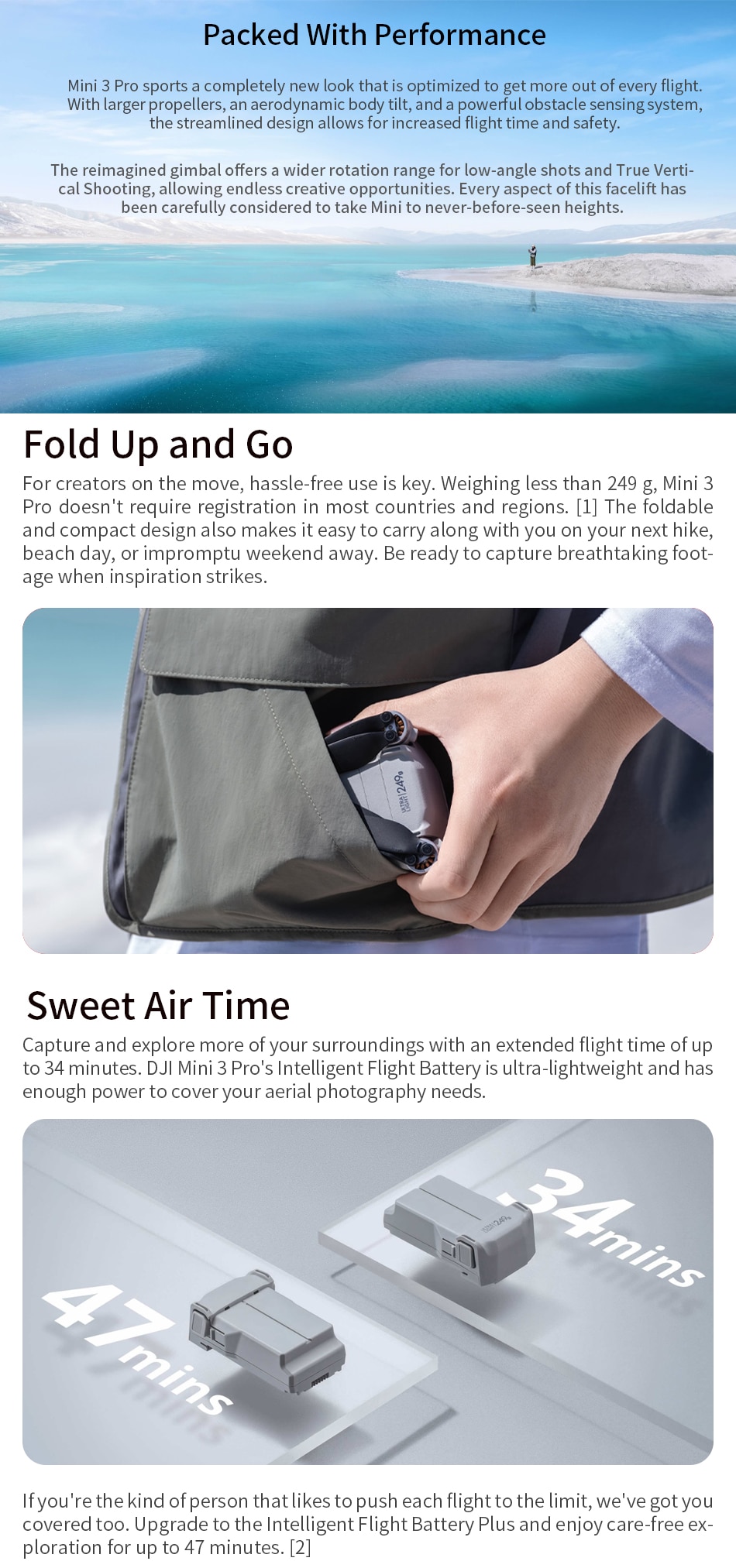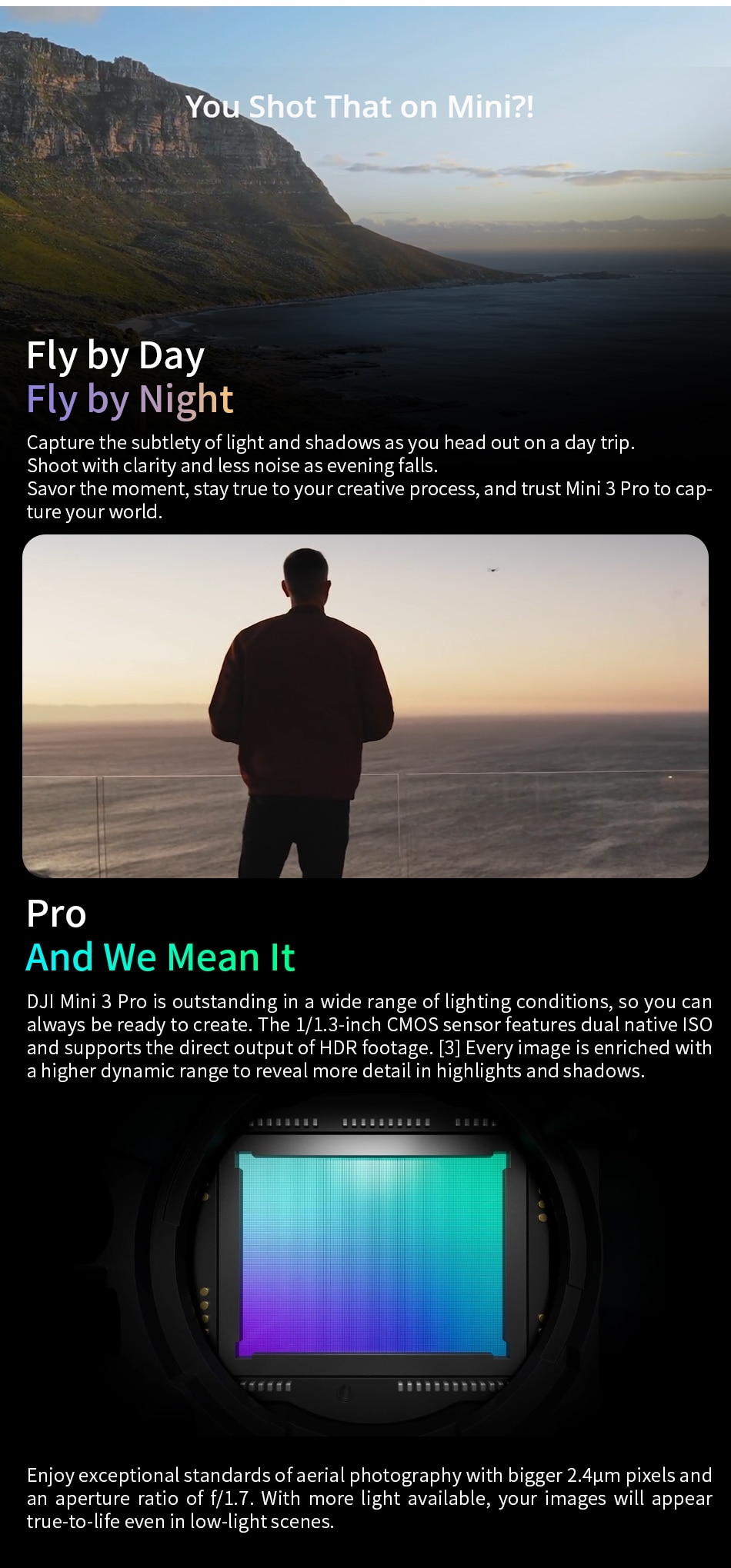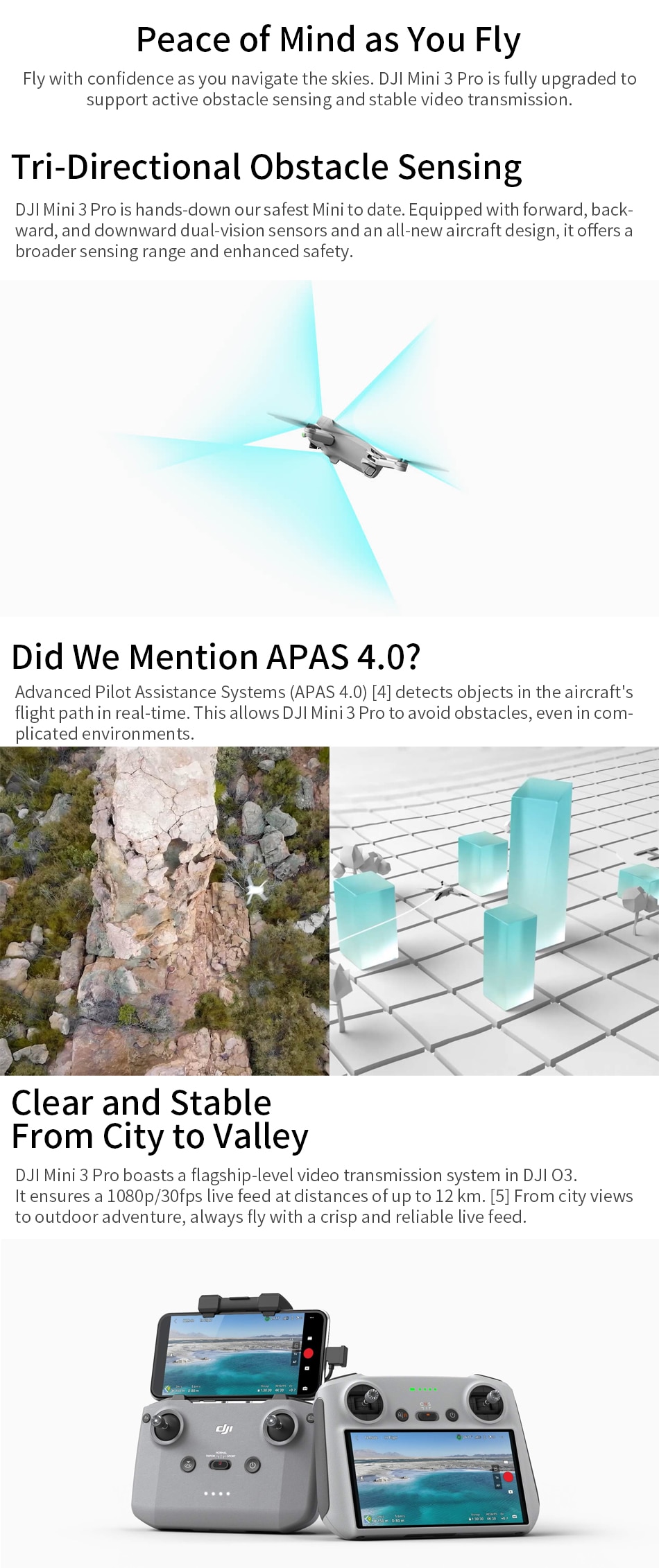 Perfect product. Recommend purchasing with the seller. Was sent in 2 packages, first the drone and control and after the combo. Packages arrived with 7 days difference and without taxation.
DJI Mini 3 Pro Drone 249 g Tri-Directional Obstacle Sensing 4K/60fps Video 4K/30fps HDR Video 34min Max Flight Time MasterShots
I already take the second Mini 3, in this store and for some reason both had boxes open, the seal of the factory was torn. As it tries.
The copper came in a week. The only negative of the seal on the box was opened. Before that I took a mini 2 here, the box was in the factory seal. I haven't activated the Mini 3 yet. I'm afraid that they would not send a defective person.
At KidsToys, we understand that your child's happiness is important to you. That's why we work hard to bring joy and unique products to you. Our delivery timeframe for most items is about 3-7 Business Days. Personalized products and some specialty products may take longer. During the holiday season, due to the overpressure on shipping lines, the parcel could take longer than expected! Thank You for Being Our Valued Customer. Have questions? Live Chat or Email us, and we'll be happy to help. Thanks again for choosing KidsToys!
What is Kids Toys? 
Kids Toys is a popular online store for baby and kids products. 
What is the benefit of buying from Kids Toys?
We want to offer the best possible deal for our clients for the goods that all of us want to buy for our children. Our endeavour is to make sure which you get the widest possible choice of top rated brands and products at the best possible fee anywhere within the USA. Combined with the best possible service and timely delivery of products at your doorstep.
What products do Kids Toys sell?
We sell products of all the leading brands for babies and kids. You can be assured of our commitment to good toys and healthy play for kids. We travel the world searching for quality, innovative toys and games. Check out our New Releases to see the latest AND greatest!

What's the minimum order value required to place an order?
There is no minimum order value required to place an order. You can place any amount value order as the mentioned of the product price.
How do I know my order has been confirmed?
After checking out during the payment process, you will get a confirmation that your payment has been processed successfully. You will also get a mail in your registered email id, along with an SMS to your registered mobile number confirming the order. 
How do I check my order status?
We will ship your package within 24 hours of receiving the order. We will also mail you the name of the courier company and the tracking number of your consignment for your registered email address. You may receive an SMS about the identical. In case you do not receive an email from us within 24 hours of placing an order please check your spam folder. Tracking won't seem online for up to another 24 hours in a few cases, So please wait till your package is scanned via the courier company. Alternatively, you may take a look at the same in my account page, where track shipment option gives you the current status of your order being shipped.
Is it safe to use my Credit Card Online at kidstoys.us?
We accept all major credit & debit card, Amazon Pay, Google Pay, Apple Pay also accepted through Paypal. All your transactions online are protected & secured by SSL (secure socket layer) technology from Shoppify.com. It encrypts your credit card and relevant information during the entire transaction process. This encryption makes your shopping experience safe and secure. 
What if an item is out of stock?
We make every effort to keep all products in stock. however, there can be times while unexpected demands exceed our supply. We can notify you at the time of check out if the item selected isn't in stock. In the rare situation where the order has been accepted and due to some reasons we aren't able to ship, We can notify you within 24 hours and the money will be returned to you in the same mode through which the payment was made within 10 operating days.
How are the products packaged?
Each of the individual products is securely packaged in bubble wrap and put into a box. The box is sealed well ensuring a safe delivery to your doorstep. 
Do you'll deliver products outside the USA?
We do ship products outside of the USA. In that case, you have to pay the shipping charge according to the USPS International Shipping Charge while you checking out the order. 
What is your Return Policy?
We have 7 days return policy. If your product delivered broken or product not delivered as like the website image.